May 21, 2015
1) Wild and SCENIC Film Festival - Saturday, May 30th
2) Mussel Outing - Saturday, June 13th - 11am-2pm
3) 4th Annual Georgia Mountains Farm Tour - June 27th & 28th
4) VOLUNTEERS Needed!!
Soque River Days Book - VOLUNTEER Editors/Writers

Help Relocate Donated Office Desk
1) Wild and Scenic Film Festival - Saturday, May 30th
Chattahoochee Riverkeeper, in collaboration with

Brenau University

and the

University of North Georgia

, is thrilled to bring the

Wild and Scenic® Film Festival

to Gainesville GA on Saturday, May 30, 2015. The Wild & Scenic® Film Festival inspires people and unites communities to conserve and protect our natural resources. Join us to witness environmental and adventure films that illustrate the Earth's beauty, the challenges facing our planet and the work communities are doing to protect the environment. Through these films, Wild & Scenic will inform you about the state of the world and inspire you to take action. Light refreshments and delicious

Sweetwater

beer will be served before the screening and during intermission. Door prizes and raffle items will also be a part of the event. Come prepared for an evening of fun and inspiration.

For more information, or if you are interested in sponsoring this event, please contact Duncan Hughes, Headwaters Outreach Director, (770) 531-1064 or dhughes@chattahoochee.org.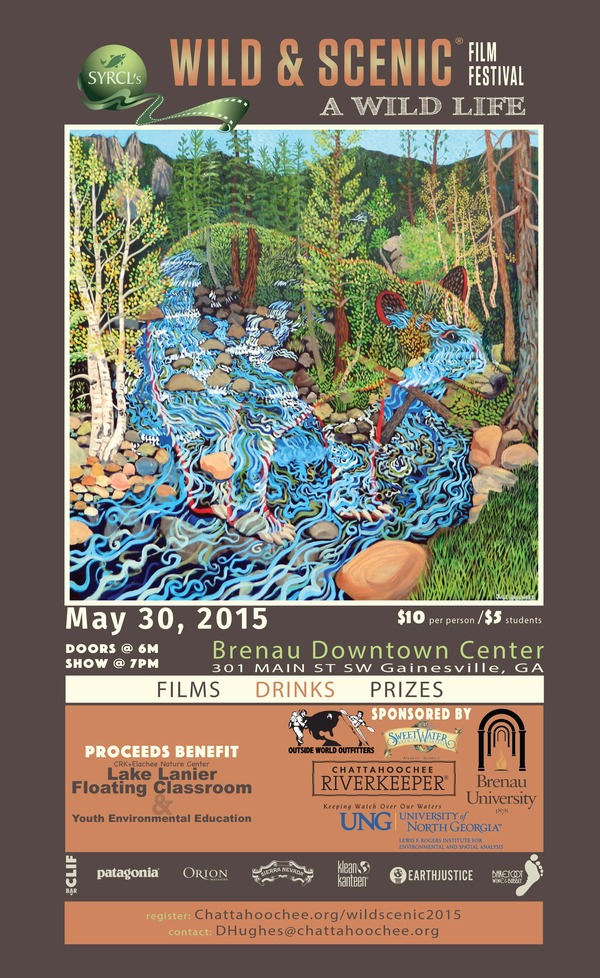 2) Mussel Outing - Saturday, June 13th 11am - 2 pm
Most folks have no idea that the Soque River Watershed is host to the first indigenous mussel populations sighted in the Upper Chattahoochee River Watershed in the last 50 years. It's a pretty cool honor. This summer outing will get us out in Hazel Creek with a professional aquatic zoologist from the Georgia Department of Natural Resources to answer questions about these mussels and why it's such big deal that we find them in our watershed. Pack a lunch and snorkle if you want to get up close and personal with the mussels. The event will be held from 11-2 pm on

Saturday, June 13th

.

Email Scarlett at soque_scarlett@windstream.net or call 706-754-9382 to sign up and for directions.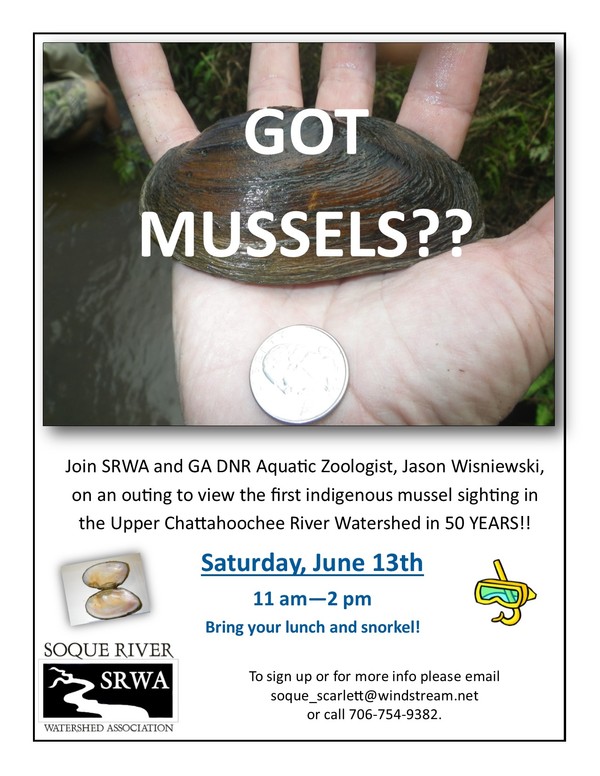 3) 4th Annual Georgia Mountains Farm Tour - June 27th & 28th
The fourth annual Georgia Mountains Farm Tour will be held Saturday, June 27th and Sunday, June 28th from 1-6 pm. This event provides a unique opportunity for the general public to visit over a dozen working farms in the Northeast Georgia mountains and see sustainability in action. Weekend passes cost $30 before June 17 and $35 after June 17. One day passes cost $20.

For details or to purchase a pass online, visit GMFN's website here, email Andrew at gmfnfarmtour@gmail.com or call 503-758-8488.
4) VOLUNTEERS Needed!!


We have two volunteer opportunities available and YOUR help would be MUCH appreciated!!



OPPORTUNITY #1


Our "Soquee River Days" book is well on its way to becoming a reality by the end of the year, however, we still need help with a few key points of interest that are important to be included in the book. We are looking for a few folks who have an interest in writing and editing who are outgoing and would be interested in interviewing and writing a piece to be included in our collection of how the community experiences the Soque River. Topics may include:
Mark of the Potter - Watts Mill

Batesville Community and Store

Tray Mountain Wilderness / Appalachian Trail at Headwaters to Soque

Oakey Mountain ATV Trails

Other Points of Interest within the Watershed
If you have previous writing, editing or interviewing experience or just a keen interest on helping us develop these and other topics to be included in the "Soquee River Days" book please email Scarlett at soque_scarlett@windstream.net or call (706) 754-9382. You can view the "Soquee River Days" website to see some of our content HERE.



OPPORTUNITY #2
Not a writer? That's ok! We need help moving a very nice (and FREE) oak desk from Duncan Bridge to our office in Downtown Clarkesville. As you know, we lost nearly everything in the office FIRE just over a year ago and we are still rebuilding our office inventory. We have been gifted with yet another generous donation of an office desk. We need 3 or 4 strong hands for an hour or so to help move this SOLID OAK desk onto a trailer at Satchel Storage on Duncan Bridge and then unload it at our office in Clarkesville. YOUR help is GREATLY appreciated!! To volunteer please email Scarlett at soque_scarlett@windstream.net or call (706) 754-9382.
Soque River Watershed Association
Donations to the Soque River Watershed Association (SRWA) are tax deductible.
You can JOIN the SRWA or make a Donation by clicking HERE